About
Get to Know Moon Grove

Vision
Moon Grove Farm is a retreat from our fast-paced daily routines. Disconnect for awhile and remember a time when you daydreamed and felt rested.
Take the time to
Move slower.
Take in nature.
Enjoy the simple things.
Be present.
Be idle.
Just be.
Backstory
While Moon Grove Farm was started in November 2017 by Mike and Jen Quinlan, their journey together began back in 2006. In their early 20's, Mike and Jen met in Chicago, IL. Since then, they've been side-by-side exploring Albuquerque, NM and Austin, TX for a decade before settling back in Champaign, IL in 2014.
While outdoor activities and gardening were always of interest, the desire to live on a small-scale farm was sparked during a trip to Oregon. At the time, Jen was at a high-stress startup job and Mike was a balancing a sales role while going to grad school.
During their trip, they stayed for two days at an off-the-grid goat farm. They enjoyed sleeping in an airstream trailer surrounded by tall pine trees. Their gracious hostess took them on a hike with a herd of dairy goats, and she shared with them amazing cheese that was made on the property.
The unexpected best part? No cell phone service. Mike and Jen spent less time fixated on pixels, and more time talking, relaxing and moving slower. This "tech detox" was an experience they wouldn't forget.
Upon returning back to Austin, Mike and Jen pursued opportunities to pick up new skills to help them assess whether a farm lifestyle was right for them. Through a short-lived internship on a goat farm, the dairy side was determined to not be a fit. They volunteered a bit on an urban farm, and were impressed by what could be grown in a hot region with predominantly clay soil.
Finally, through many late night chats, they realized that if presented with the right opportunity, moving back to Central Illinois was where they really wanted to settle down and explore next steps in farming.
A career opportunity brought the couple back to Mike's hometown of Champaign, IL. They more seriously pursued knowledge tied to farming and avidly scoured properties in the region. They enjoyed taking bee-keeping courses with Long Lane Honey, volunteering at Prairie Fruits Farm & Creamery, keeping garden plots at Parkland Community College or learning how to manage backyard chickens via a class at Common Ground Co-Op.
After a few years, they had just about given up on the rural life pursuit. Things aligned and the right farm emerged at the right time. Previously known as Stone Court Farm, Mike and Jen agreed the property was love at first site and went all in. By November 2017, they moved out to what is now named Moon Grove Farm and made it their home and business.
Moon Grove opened Memorial Day 2018 as a farmhouse B&B and you-pick flower farm.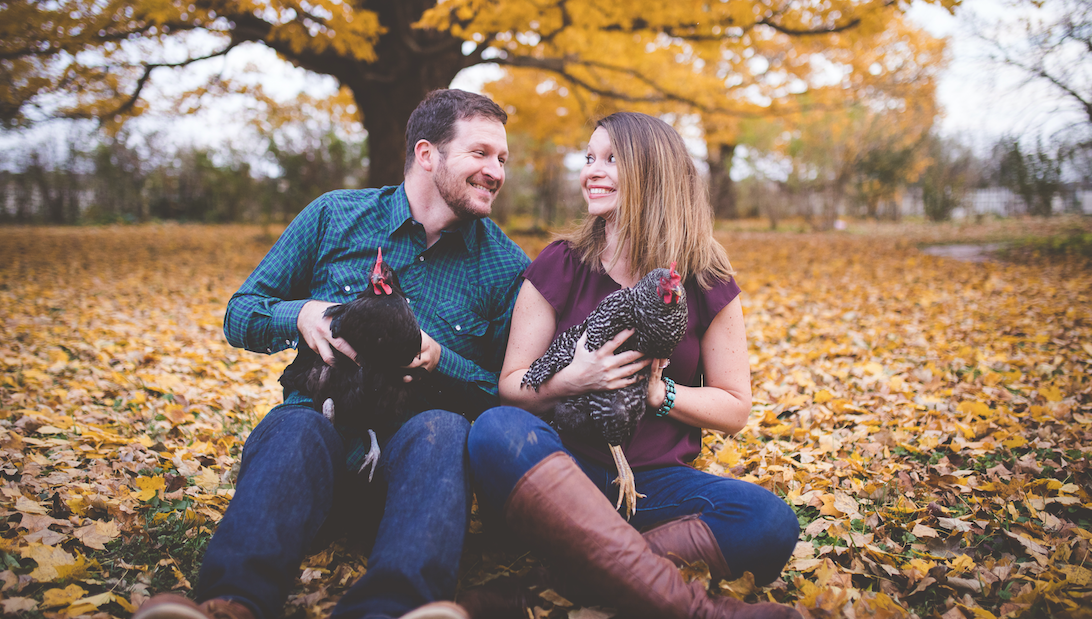 Moon Grove Farm Co-Founders, Mike and Jen Quinlan