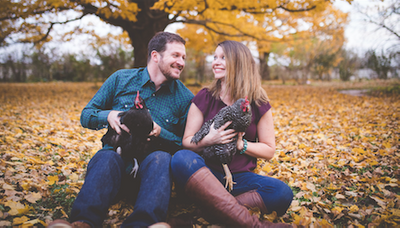 Hens and Lens
Mike and I celebrated our first year at Moon Grove Farm by doing something we rarely do, have our photos taken. We invited Kathy Stagg to meet us at the farm to snap some pics of life around the farm. All of our photos were of course very lovely, but this pic stands out for a couple of reasons.
Right before the picture was taken, both Neptune and one of the crazy Barred Rocks (we call them all Elvira) went nuts, flapping their wings all over the place. It is amazing on the farm what a matter of seconds will mean as far as going from calm to chaos.
Also, little did I know while this photo was being taken (but should have known better dealing with animals) that Elvira had pooped all over my jeans and it even went through my blouse. I had to run inside to do an outfit change. So much for trying to look nice for once on the farm!
Either way, it was a great way to mark a major milestone - the completion of our first full season on the farm.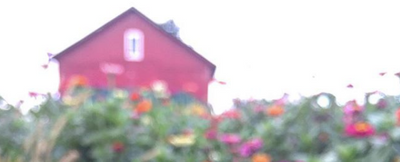 You-Pick Flower Event on Sunday, 9/23
Signs of autumn are all around us. The goats crunch on yellow leaves in the pasture. Early mornings require a light sweatshirt. The afternoon sky is a vibrant blue. And oh, those fall sky sunsets are impossible to capture in a photo.
While cooler temperatures mean we're nearing the finish line for the season, it also means that the flower field's days are numbered for this year. We hope that the field will be able to stretch until the end of October, but the weekends are limited at this point moving forward.
Tomorrow, on Sunday 9/23, we're hosting one of our last you-pick events of the season. Details are posted as an event on our Facebook page. We'll be open from 9:00am - 12noon. In addition to having fresh flowers for sale, we also have a fabulous sunflower patch that is a perfect photo backdrop. Our goats will be in the back pasture, chickens scurrying around and we just brought back the Quinlan family wagon from Mike's family's farm in Rantoul, IL.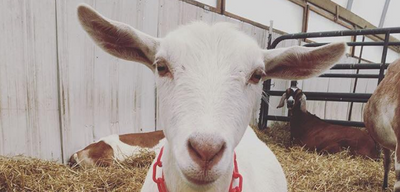 Goat Day
I don't know when the goat dream started. Probably after our visit to Pholia Farm in Oregon. We stayed at an off-the-grid goat farm in an Airstream trailer. As part of the experience, we got to take goats on a hike in the woods and even watch baby goats slide down a slide.
At the time, Mike and I lived in Austin, TX. In fact, it was a summer of horrible brush fires striking nearby throughout Bastrop. When we returned via plane from lush Oregon to Austin, we flew through smoke columns to look down on one of the driest summers.
We moved back to Illinois in 2014. At the time, I was on the founding team at an early stage startup that had spun out of the University. Life was very stressful and busy. Most of my days were spent up late behind a computer screen's glow, chumming it up on Amtrak several days a week or sitting in traffic in Silicon Valley between meetings.
When the startup winded down in late 2016, I felt empty. I desperately needed something to recharge and get myself back on track. I had been a fan of Prairie Fruits Farm from afar, and since our Pholia trip dreamed of learning more about goats. I wrote to Wes & Leslie asking them if they'd like a volunteer that could do free marketing tasks in exchange for getting some experience with goats. It was a match.
That month of volunteering while between jobs turned into the best volunteer gig for me across the past two years. I've learned so much from Wes and Leslie and admire them greatly. They're values-driven, kind, hard-working, mentor so many other people looking to start their own thing, create experiences for people that are unique and meaningful, and such good people.
After we get settled into Moon Grove, I approached Leslie about getting a few goats - feeling that having some hooved friends on the farm would make it feel complete and bring joy to people that visit us. Last week we got the call, well, text really. Leslie suggested several of their pet goats (Athena, Cockleburr and Apollo) live at Moon Grove Farm.
So, here we are. Today is the big day. Goat day. The goats arrive at about 6:30pm tonight, and I feel like a little kid on Christmas Eve. I can't imagine being able to focus at work today, as I'll be watching the clock all day. Filled with joy and anticipation.

Picking Flowers & Pop-Ups
The flower farm now has three full rows of flowers in bloom. This week we'll be planting a fourth row that should keep our field active through October (weather permitting).
You Pick Flower Events
Typically we've been open one day on the weekend for you-pick. Please visit our Facebook Page in the "Events" section for the most up-to-date information.
Our next you-pick flower event will be Sunday, August 19, from 8:30am - 11:00am. See details here.
Pop Up Flower Shop
Have you visited Yellow & Co, an artsy boutique located in Mahomet? We recently co-hosted a pop-up flower shop with Yellow & Co. and had a blast.
And... we're headed back for another event in September. Join us on Saturday, September 8, from 11am - 3pm at Yellow & Co. to browse pre-made bouquets, pick up farm photography cards and get to know one of your local farmers.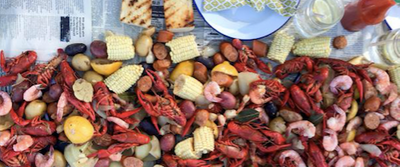 Special Package with Prairie Fruits
Crawfish Boil + Farmhouse B&B = Perfect Date Night
We're doing a special package with Prairie Fruits Farm and Creamery for their "Southern Style Seafood Boil" dinner on Saturday, July 21.
ABOUT THE DINNER
What could be better in the dog days of summer than large outdoor boiling pots filled with steaming fish, shellfish, potatoes and sweet corn? Chef Raquel Aikman Ritz will channel her love of southern food to craft a farm fancy feast.
Date: Saturday, 7/21
Time: 5pm
Location: Prairie Fruits Farm in Urbana, IL
Cost: $70/person
ABOUT THE B&B PACKAGE
For this evening only we're offering the ability to book a single room at Moon Grove Farm if you're attending the dinner at Prairie Fruits Farm and Creamery. Also - we're doing a special rate of $75/room. Price includes breakfast - which will feature Prairie Fruits' cheese in the dishes made.
Date: Saturday, 7/21
Time: Check in Saturday afternoon
Cost: Discounted rate $75/room (usually $100/room with a 2-room minimum)
Amenities: Private room with Queen-sized bed, shared full bathroom, spacious living room, covered porch, 4 acres to roam and stargaze.
Breakfast: Included
Checkout: 11am on Sunday, 7/22
Book: Email moongrovefarm@gmail.com or message us on Facebook to book your stay.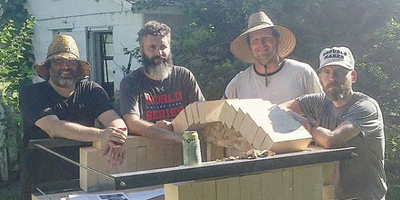 Operation Pizza Oven
Welcome to the hottest day of the year. Four guys spent twelve grueling hours constructing Moon Grove Farm's brick pizza oven. By 10pm they tested sweet success in the form of a 12" pizza coming out of the oven. Check out the final photos of the build.
Mike's guy friends came in to the farm from all directions to help on the project this weekend. John flew in from D.C., Scott drove out from Ohio and Joe flew in from Phoenix.
They followed a project plan via Make Magazine. The plan claims you can make an arched brick oven pizza in a day. Technically it takes two days considering you have to drive back-and-forth to Lowe's about four times to transport a ridiculous amount of cinderblocks and fire bricks.
We used clay to coat the build. Over the next month, we'll add on a clay chimney and likely a front door to help the structure retain heat better. Eventually we'll add mortar to lock the design in.
In addition to having one pizza baked in the oven, we did make some bonus pizzas inside in the kitchen. I tried out a recipe from Epicurious for pizza dough, and it was delicious. Takes about 90 minutes to prepare, let rise and roll out. Topped the pizza with garlic tomato sauce, fresh ricotta from Prairie Fruits Farm, fresh basil and some shredded mozzarella with a pinch of salt. Delicious way to celebrate!

Just Announced: 2-Room B&B Package
When we first opened Moon Grove's B&B just a month ago, we primarily set out to serve groups interested in all three rooms. From graduation weekend or larger families traveling, this option has been a great fit.
Recently we've received inquiries from smaller groups, specifically two couples traveling together, looking for a right-sized package. In turn, we're happy to announce that we just opened up a new option - to book a two room package with us.
With either option, your group gets exclusive access to Moon Grove Farm during the stay, as we only rent to one group at a time. We believe to provide the best experience for our guests, it is important to only serve one group at a time.
Visit our listings on AirBnB to check availability. We're open on Friday night, Saturday night or book both evenings now through mid-December 2018.
With any of our packages, please contact us to discuss the type of experience you're looking for. From late night s'mores around the campfire to using our grill to cookout with buddies, we have the experience to best fit your group's needs.

Unexpected Friendship
Jen Quinlan
Friendships take all shapes and sizes. This cross-species friendship entertains me very much.
To the best of our knowledge, Oscar the cat and Crosby the rabbit have both lived on the property for at least 6 months prior to us moving in. We've caught glimpses of them together, and suspected they were pals but not known for sure. We've seen cat carrying cases and an old rabbit hutch. I can only assume they were once pets, but eventually let loose to give living in mother nature a go.
Today I looked out the kitchen window at Oscar, and there was Crosby leaning against him in the middle of the driveway. It was luck that my dogs didn't get in on the action, and that I could find my good camera in time.
At first I shot out the upstairs window to ensure I got at least one good shot. From there, I crept out a side door through the chicken coop area to shoot through a pine tree - at least I thought I was moderately obscured. The two gave me the death stare, but seemed like they didn't care. I got within 10' before they split up and went about their separate routines.
With so much chaos, stress, sickness, greed, frustrations, war and hate in this world - sometimes it is nice to focus in on the small joys of living like two goofy outcast farm pets let loose that became best friends. In the wise words of Jim James (lead singer of My Morning Jacket), "Life is as sweet as you let it be".

Tilling Was Never The Same
Jen Quinlan
Over the past few months, well-intentioned people have given us a lot of, "you shoulds". This is my term for when everyone has a recommendation on something expensive you should "really" obtain. We'd need to win the lottery to be able to fulfill every recommended piece of equipment someone has recently recommended we buy.
Our property is 4 acres. When we bought the land, the majority of the pastures and garden plots were overgrown with prairie grass and 8' tall weeds. We decided to rent brush mowers and a tiller in November to get things more manageable.
With temperatures starting to warm up, with fear we've started to see green grass and weeds peeking out from our fields. We knew the clock was ticking to build a game plan and start working the ground for our flowers, herbs and vegetables.
Stubbornly, we tried first to do everything by hand. I used a hoe to do several rows in our main vegetable garden to get a head start on kale and lettuce. Together, we spent 2.5 hours hoeing a patch roughly 20' x 8' wide in the flower field. With aching backs, calloused hands and general frustration, we decided it was unreasonable to complete the whole field by hand. At least, I was glad we tried to prove to ourselves this was a category of need that truly required the right machinery.
Today we picked up our first mechanized tiller. At under $600 from Rural King, she is a gem! Two hours of work got knocked out in 20 minutes with a reasonable level of physical effort. In fact, I dare say, tilling was fun.
Guys name the cars and boats. Today, I named my first piece of machinery. I call her Judy, after my mom. Both are hard-working and get stuff done! Three cheers to welcoming "Judy", and may her tenure be productive in our first year on the farm.

Bursting Buds Under the Full Moon
Jen Quinlan
On a night like this, the farm's name made sense.
The moon hovered on the horizon holding a deep golden hue. The contrast was striking against the deep navy sky.
I darted inside to find my good camera with the dogs clamoring on my heels. Not having any formal photography training, trying to get "the shot" is dance with lady luck.
The photo that resulted was one I won't soon forget. A small bud on a low branch of a Buckeye tree silhouetted against the moon. It marks the turn of cold nights into frosty mornings and eventually spring. It is both exhilarating and overwhelming due to everything we need to get done. But for a moment, Moon Grove Farm made sense. And felt right.